CUBING
We are specialized in the study and manufacture of cubing (MAPIEX or geometric gauge), this product is a very precise system of references made in machined aluminium allowing to analyze serial parts, compared to a theoretical system of references.
The Cubing is a great added value product that needs a particular know-how and that requires strong liabilities and very specific fixtures in design, NC milling and checking. The Cubing is a referenced fixture used to valid all the interior and exterior serial parts of the frame of their theoretical environment. This referential fixture is generally manufactured in aluminium, NC milled and fitted on the welded frame basis, representing the scale 1 of the product.
CHECKING FIXTURES / JIGS
The checking fixture is an important part of our activity, we design and manufacture serial and prototype checking fixtures for interior plastic parts of a vehicle, as dashboards, consoles and door panels, but also used for exterior plastic parts vehicles such as bumpers, trims, strip holders, calender… We design and manufacture some assembly fixtures of metal parts or gluing fixtures of composite-made-parts. 
VALIDATION FIXTURES WITH ADJUSING GAPS
Metal fixtures opening on carbon-case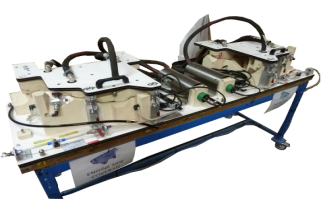 SERVICES ON CUSTOMER SITES 
3D checking with LEICA AT401 LASER TRACKER
Design with CATIA
Digitization
Installation and adjustment
Expertise and advising in control process
REFERENCES